May Day CU Grabbag-My first CU Freebie
I can't believe it's the first of May. When I was growing up, we would put flowers in something we could hang on someone's door knob. We would ring their doorbell then hide and watch them find the flowers. This freebie is flower themed. So Happy May Day!


This grab bag matches the colors of the May Bits and Bobs blog train that comes out on May 15th.


Please read the enclosed TOU. This is tagger's size. Click preview below to download.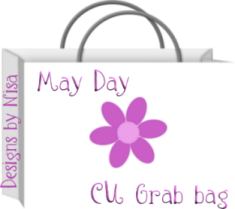 Labels: CU Freebies, Freebies